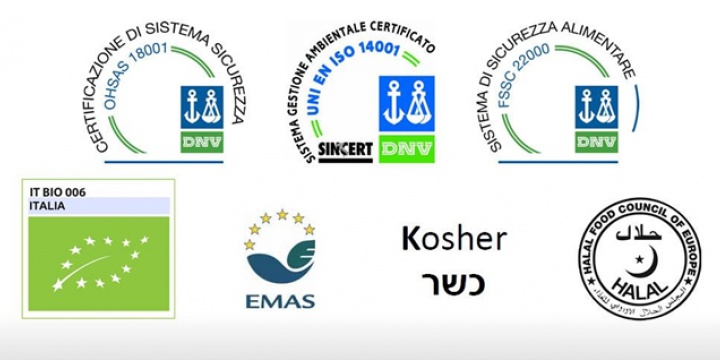 Granoro has chosen to comply, on a voluntary basis, with various international standards concerning both the quality of the pasta and all of Granoro's products and aspects of food safety. Granoro believes that a continuous monitoring system and structured controls involving the whole of its organisation are the best way to pursue the goal of total quality, including occupational health and safety.
Granoro is also sensitive to subjects and issues of an environmental nature and has adopted self-control systems to improve its performance with regard to safeguarding the environment and saving energy.

Organic Production Method Certification
Granoro has adopted the ICEA control system for Certification of the Organic Production Method pursuant to the EC Regulation 834/07 adopted in Italy by Ministerial Decree No. 18354 dated 27/11/2009.
Organic foods are produced and processed with respect for the environment and meet the precise needs of those wishing to consume food grown in accordance with the rhythms of nature, without any trace of chemical principles. Indeed, no chemical pesticides or fertilizers, weedkillers, fungicides, insecticides or Genetically Modified Organisms (GMOs) are used in organic agriculture.
By obtaining Certification of the Organic Production Method, Granoro has demonstrated its compliance with all of the requirements set forth in the regulation for the production of its organic range:
qualification of organic suppliers (who must provide evidence of the organic production method's conformity certification issued by the relevant certifying body);




controls performed on receipt of incoming organic goods (made possible through control codes on the labels of packaged products, obligatory markings, batch/lot certificates);




separation of the two production cycles, organic and conventional (caution and prevention with regard to contamination);




analyses performed by SINAL laboratories, which operate with highly sensitive analytical methods;




management of non-conformities (the operator's conduct towards his supplier in the event that analysis of the lot delivered is positive).
ISO 14001:2004 Certification
Protection of the environment and correct application of an Environmental Management System is a strategic priority for Granoro.
For Granoro, obtaining the ISO 14001:2004 Environmental Certification means choosing every day to respect the territory in which it is located, ensuring that the environment remains intact for the next generation, self-monitoring itself and voluntarily accepting its responsibilities with the objective of continuously improving its environmental performance.
By adopting an Environmental Management System, Granoro has accepted responsibility for:
identifying the most important environmental aspects;




ensuring that its facilities and performance comply with the environmental regulations in force;




committing to improve its environmental performance on a continuous basis.
EMAS Certification
For Granoro, obtaining the EMAS certification is proof of how the company focuses its efforts and resources on technology and products that have an increasingly lower impact on the environment.
The EMAS system, established with the EEC Regulation 761/2001, is an environmental and industrial policy tool of a voluntary nature, aimed at promoting continuous improvements in the environmental efficiency of industrial activities.
Granoro has subscribed to the EMAS system, adopting strict rules governing its internal organisation, obtaining the Declaration of Participation in the System following an audit performed by an independent accredited body. The declaration is recognised in all European Union countries and is equivalent to a kind of environmental certification.
Granoro has made a constant and precise commitment, that of:
full compliance with environmental regulations;




adopting environmental policies, programs and management systems designed to allow it to operate within the context of preventing pollution;




improving its environmental performance wherever possible;




assessing the results achieved in a systematic, objective and regular manner;




communicating to the public the systems adopted and the results obtained.



The authenticated environmental declaration gives a summary of the commitments undertaken, is available to the public and is updated on a regular basis.

IFS Certification
For Granoro, obtaining the IFS (International Food Standard) certification means voluntarily choosing to adopt an operational tool for qualification of the company's products and at the same time guaranteeing a management system that focuses on the quality and health and hygiene safety of the same products.
IFS is a tool similar to BRC and has been put in place by organised large-scale retail trade operators in France and Germany with the objective of managing the processes and limiting the risks inherent to every company process. Today it is an international standard for the control of branded, retail and wholesale food products.
Also adopted by the main trade associations, this standard regulation is applied to all stages in the chain of production and processing of raw materials procured from agriculture and farms.
Its main elements are as follows:
adoption of good reference practices;




adoption of H.A.C.C.P. system;




adoption of documented quality management system;




control of workplace, product, process and personnel standards;




existence of specifications for all aspects of the production process.
FSSC 22000:2011 Certification
The UNI EN ISO 22000:2005 standard and FSSC 22000 additional requirements are international standards that define the requirements of a food safety management system. They can be applied on a voluntary basis by all operators within the food industry to assess and demonstrate product conformity in terms of food safety and guarantee the effective control of risk factors.
The standard is based on:
full conformity with the HACCP principles of Codex Alimentarius;




alignment with the ISO 9001:2008 and ISO 14001:2004 standards;




the possibility for it to be applied to all of the organisations involved in any aspect of the food chain that wish to implement systems capable of systematically providing safe products.



Granoro has obtained certification in accordance with FSSC 22000:2011 in order to:
demonstrate its commitment to careful risk management;




identify and control any hazards for the consumer and implications of the same on the safety of the food to ensure that they are safe at the time of human consumption;




obtain tangible and demonstrable improvements in food safety performance through the implementation of a management system designed to provide consumers with safe products;




demonstrate compliance with legislative requirements related to food safety;




assess and meet customer requirements whilst operating in compliance with food safety requirements;




communicate effectively about food safety issues with all levels of the supply chain;




optimise resources.
Kosher Certification
Kosher certification is awarded when food produced is fit for consumption and complies with Kashrut, so that Israelis may consume it in accordance with the Jewish dietary laws set forth in the Torah. Food that meets Kashrut requirements is termed kosher in English, from the Hebrew term kashér.
Kosher certification is obtained after a control procedure has been performed by a rabbinical organisation specialised in kosher certification, which supervises the production of a food product to guarantee its conformity with Jewish dietary laws, which is indicated on the product by an appropriate symbol.
Kosher certified products must meet the strictest quality standards during the entire production and packaging process; in addition, every single ingredient used in the preparation of a food product must comply with the restrictive laws of kashrut.
Compliance with these strict rules is checked by experts at the production site on a regular basis and as the certification has a set validity period it must be renewed regularly and can be withdrawn at any time, even by those who are not Jewish.
These regulations therefore offer protection for consumers, irrespective of their religion, which is why kosher certification has become a sign of quality recognised all over the world.
Indeed, in countries such as America, the greatest consumers of kosher products are not Jewish, but people of any religion who see the symbol as a guarantee of quality and authenticity.


Halal Certification
The HALAL symbol acts as a guarantee and when marked on a product it tells consumers that the product and its ingredients are all HALAL certified, or rather they have been subject to authentic procedures and treatments at every stage of their production process, in accordance with HALAL quality standards.
Halal is an Arabic word meaning allowed and in the Muslim world the term refers to that which is permitted according to Islamic law, with particular reference to rules governing food.
Muslims must consume Halal certified food and therefore this certification is an essential customs requirement for food products to be sold and imported into some Islamic countries.
Granoro has obtained HALAL quality certification from the Halal Food Council of Europe (HFCE), which certifies that the preparation of food and drink was performed in an "allowed" manner, that is to say according to Islamic laws, making it easier for Muslims to choose food products that they are allowed to purchase and consume.
The HFCE is responsible for reviewing all of the products, ingredients, preparation, treatment and hygiene procedures involved in production of HALAL quality certified products and monitoring the correct training of personnel, who must possess the right knowledge of all of the production and handling methods.
The services performed by HFCE are also of assistance to the manufacturer and/or exporter, which, after careful inspection, will be issued with a certificate to confirm that the production and/or exportation of their products complies with the requirements of Islamic law.
OHSAS 18001:2007 Certification
OHSAS 18001 (Occupational Health and Safety Assessment Series) is an international reference standard designed to help companies define objectives and policies related to Occupational Health and Safety, in compliance with the regulations in force and based on an assessment of the risks and hazards that may be present in the workplace.
Implementation of an OSH management system is designed to manage any issues related to safety within the company through prior assessment of risks and their reduction, by means of preventive actions derived from a continuous improvement plan.
This management concept is in line with both the company's focus on motivating its personnel and the company's objective to treat issues related to the quality of life and occupational safety as an opportunity to combine the development, productivity and motivation of personnel.
The creation of a system in compliance with the OHSAS 18001 standard presupposes a series of elements:
an appropriate OSH policy including a continuous improvement program;




identification of hazards, risk assessment and analysis of specific legislative requirements;




monitoring of the health and safety management system's performance;




audits and continuous assessments to optimise the system.
ISO 22005:2008 Certification
Granoro's Dedicato range is the first pasta produced from cereal grown and supplied in Puglia to obtain the ISO 22005:08 certification from DNV (Det Norske Veritas), one of the main independent certifying bodies in the world.
Traceability throughout the pasta's entire production chain is the instrument chosen by Granoro to:
guarantee the production of pasta using wheat grown exclusively on the plateaus of Puglia, known since time immemorial as the wheat belt of Italy;




work with advanced pasta-making technology to create pasta of a superior quality;




enable punctual identification of the batches and amounts of pasta produced using wheat from Puglia;




vsupport food safety and quality objectives;




identify the history and origin of the product;




make it easier for consumers to check products and obtain specific information about them.



The entire system is controlled using a monitoring program that identifies the stages, critical points, responsibilities and elements subject to traceability for each stage of the process.

BRC Certification
For Granoro, obtaining the BRC (British Retail Consortium) certification means operating with a focus on safety and ensuring that products are produced in compliance with the well-defined international quality standards set forth in the BRC regulations.
The BRC certification is an operating instrument used by British retailers in the organised large-scale retail trade for the purpose of creating a common basis on which to qualify suppliers of branded products for the organised large-scale retail trade and guarantee the quality and safety of food products sold, for protection of the consumer.
Through this voluntary certification, Granoro has proven compliance of the following, which are subject to strict controls:
the structural specifications of its production areas;




the specifications of its products and processes;




its rules of conduct in relation to personnel and visitors;




hygiene rules for personnel and visitors;




the absence of allergens for consumers with food sensitivities;




the absence of Genetically Modified Organisms;




traceability of the raw materials used and the finished product.