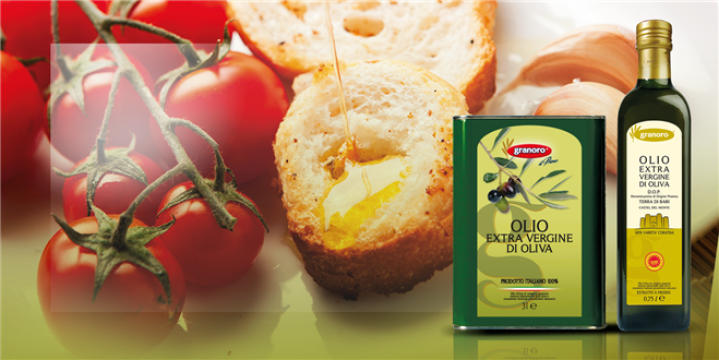 Granoro's PDO and 100% Italiano Extra Virgin Olive Oils are made from olives grown in Puglia (Italy) by the Di Corato agricultural holding on land surrounding Castel del Monte, in the countryside of Andria, just a few kilometres away from Granoro's production facility. The area in which they grow is known as Contrada Rivera (formerly known as Livrera), which is one of the most prestigious agricultural production areas in Italy, the heart of the PDO and the Alta Murgia National Park.
Our oil is produced from olives harvested by hand, using the ancient method known in Italian as bacchiatura, which consists of beating the trees with a stick; the olives are then pressed through millstones. The olive paste obtained is cold pressed using only mechanical processes, resulting in an oil with an extremely low acidity level (max. 0.5%). Highly digestible, thanks to its sensory and nutritional properties, it provides the right daily requirement of vitamins (in particular Provitamin A and Vitamin E), polyphenols and lipids, and helps to regulate cardiocirculatory and hepatic functions. In addition, oleic acid, the main fatty acid contained in extra virgin olive oil in the amount of 70-80%, is monounsaturated and therefore capable of reducing the levels of LDL cholesterol (cholesterol that is damaging to the organism).
Balanced management of the olive grove ensures good agronomic practices are followed, therefore the oil obtained is free from chemical pesticides and fertilizers, as if the olives were grown in accordance with organic agricultural methods (the proof is in the labels of our oils). Granoro extra virgin olive oils, both the PDO bottled range and the 100% Italiano range in 3L cans, are made from the fine Coratina cultivar of olives: highly digestible, they help regulate the cardiocirculatory and hepatic functions. They are excellent both raw and cooked.
Thanks to their distinctive sensory properties and intense, fruity taste, the Granoro PDO and 100% Italiano extra virgin olive oils possess all the attributes of a superior quality oil.